1000s of Windows
In Stock Now
Special Orders
Custom Windows
Visit our store
Contact Us
Replacement windows for sale in Milwaukee
Lisbon Storm, Screen & Door has Milwaukee's best pricing and service on quality replacement windows windows for your home. We're an authorized dealer for the best replacement window manufacturers including Marvin, Provia, Silverline and many others.
Your Local Window Experts
In addition to replacement windows we offer full-frame and new construction windows. Our showroom also has an extensive selection of used and vintage products. We offer window repair and delivery, and make it easy for our customers to get warrantied window installation from the best local installers.
Our family-owned business has been selling windows in Wisconsin for over half a century. If you know exactly what you need we'll make sure you get the best price. If you aren't sure what kind of windows are best for your project, we'll go the extra mile to help you out.
Window Styles
We have a huge variety of window styles from leading brands in stock, with better pricing than you'll find anywhere else.
Window Materials
Choosing window frame material is a combination of personal preference, performance and budget. Our window experts are happy to help you narrow down the best options for your project.
Vinyl
Vinyl windows are typically the least expensive option and are a great choice for most projects. Vinyl windows are energy efficient, low maintenance and durable.
Fiberglass
Fiberglass windows are extremely strong, energy efficient and lightweight. Unlike vinyl, fiberglass windows are easily paintable, but they cost a bit more.
Wood
Wood frame windows are beautiful and can be stained or painted to match your home. Wood is a great insulator but needs more maintenance compared to other materials.
Wood Clad
Wood clad windows have a wood frame on the inside and a more durable cladding on the outside. You get the look you want for your home interior and a long-lasting, low-maintenance exterior.
Composite
Composite window frames are made of a mix of products like particle board, laminated lumber, plastics and resins. They're eco-friendly and recyclable, low-maintenance and energy efficient.
Aluminum
Aluminum frame windows are lightweight and strong, with a slim profile that maximizes the view. Aluminum conducts heat and cold, so thermal breaks are crucial.
Steel
Steel window frames offer slim sightlines and maximum structural support, making them a great choice for large panes. Thermal breaks are a must if you decide to invest in steel windows.
Window Features
There are dozens of different features to consider for your replacement windows, including venting, security, easy cleaning, noise pollution and much more. If you're overwhelmed by the options, put our expertise to work and we'll streamline the selection process based on what matters most to you.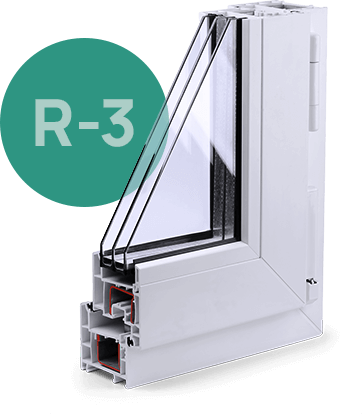 Energy Performance Ratings
Energy efficiency is the most important feature of replacement windows. Here's how to decode the labels:
R-value measures heat insulation. Higher is better.
U-value measures heat transfer. Lower is better. In Wisconsin, look for windows with a U-factor of .35 or lower.
Solar gain (SHGC) measures heat added by sunlight. Higher numbers mean more heat gain.
Visible transmittance measures how much visible light passes through the glazing.
Air leakage measures wind resistance. Lower is better (tighter seals).
Condensation resistance factor (CRF) measures how well condensation is prevented. Higher is better.
Glass Options
Glass options vary by manufacturer and window style. We're happy to help you select the right type of glass based on your project and budget.
Double-pane
Double (or dual) pane windows have two panes of glass with air or gas in between them for improved insulation.
Krypton gas
Krypton gas is used the same way as argon, delivering even greater insulation benefits. Both argon and krypton gas are odorless, colorless and nontoxic.
Triple-pane
Triple-pane windows have three panes of glass with space between, doubling the insulation for both temperature and sound.
Laminated glass
Laminated glass is made of two panes bonded to a clear resin. Laminated glass blocks nearly all UV rays, improves noise insulation and won't shatter if broken (similar to windshields).
Low-e coating
Low-emissivity coating on window panes is applied to the interior surface of glass. It reduces UV-ray and radiant heat transmission.
Impact glass
Impact-resistant laminated glass resists breaking on impact, offering greater protection from extreme weather events or break-ins.
Argon gas
Argon gas in the space between dual or triple window panes improves insulation and condensation resistance.
Decorative glass
Decorative glass is available with many different designs, including tints, textures and lites (grids).
Window Hardware
We carry a huge selection of window hardware, including reclaimed and vintage options for crank handles, locks and more. We're happy to walk you through the style and finish options available for your replacement windows.
Window Hardware
Additional window features include:
Screens
Integrated shades
Wireless controls & automation
Factory-applied interior/exterior finishes
At Lisbon Storm, Screen & Door we work closely with our customers, whether you're a professional, pretty handy, or completely new to window replacement. Put our experience to work and get windows you'll love at the best possible price.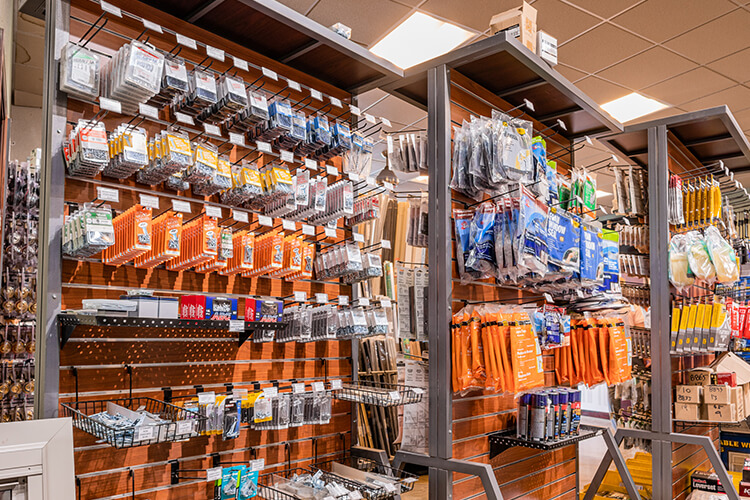 Controlling the cost of replacement windows
We hear from our customers all the time how pleasantly surprised they were by our prices. We get it. Intuitively, you'd think a big box national chain would have lower window prices due to sheer volume. But time and again people find better quality windows, better pricing and better service with Lisbon.
We're able to offer near-wholesale pricing on the highest-quality brands because of our close and longstanding relationships with the best window manufacturers.
As window specialists, our goal is matching each customer with the absolute best product based on their needs and budget – not meeting corporate-mandated sales quotas or pushing a lower-quality house brand.
We keep pricing for windows and services separate, so you know exactly what you're paying for. Some window suppliers roll the cost of a window and installation together to make it seem like a better deal than it is. Bring us your quote for replacement windows with installation and we'll show you the difference.
Replacement windows FAQ
First thing to know - replacement windows aren't cheap. For the lowest possible price on quality replacement windows, do these two things:
Choose a supplier who specializes in windows, rather than a general home goods store. We have longstanding relationships with manufacturers and are able to secure better pricing on the best quality windows. Our employees are window experts and can explain the best budget options for your project.
Pay for replacement windows and installation separately, so you know exactly how much each one costs. We're proud to give our customers 100% transparent pricing. Bring us a replacement window quote from somewhere else and we'll show you how much you'll save with us.
You'll find the best replacement window brands through an authorized dealer. The products we carry are not the same ones you'll find in a big box store. Frame material matters, but not as much as you'd think. There are poor and high-quality replacement windows in vinyl, wood, composite, etc. What really matters is the overall product quality, which is why it's so important to source your windows from an experienced distributor.
Rest assured, if it's a window we sell, it's from one of the best brands in the industry. Which specific replacement windows work best for your home depend on size, style and location. We're happy to answer your questions and point you towards the best replacement windows for your project – it's what we do!
Picture windows are the most energy efficient because they don't open, and remain completely sealed against the elements after installation.
Casement windows are the next most energy efficient option. Casement windows have hinges on one side and a crank to open/close, creating a strong seal on all four sides of the frame.
Ready to get started? Visit our Milwaukee window store or get in touch with us today:
Visit ouR store
Contact Us