1000s of Doors
In Stock Now
Special Orders
Custom Doors
Visit our store
Contact Us
Replacement doors for sale in Milwaukee
Lisbon Storm, Screen & Door has incredibly competitive pricing and stellar service on all types of new and replacement doors. We're an authorized dealer for the best replacement door manufacturers including Provia, Larson, Western and more.
We Know Doors inside and out
We offer a full range of replacement and new construction doors for all types of homes and residential buildings. Our showroom also has a wide range of used and vintage doors for sale. We repair doors in house and deliver doors throughout the greater Milwaukee area.
For more than half a century our family business has been selling the highest-quality doors in Wisconsin. If you have a specific door in mind we'll get you the best price on it. If you aren't sure which brand or type of door you need, we're happy to help you out.
Door types
We carry a wide range of doors from leading manufacturers with better pricing than anywhere else. Choose from in-stock doors at our store or have us order a special door for you in practically any design or style.
Door Materials
Choosing materials for your door and door frame is a combination of personal taste, function and budget. Our door experts are on hand to help you narrow down the best options for your project.
Wood
Wood is a popular choice for both interior and exterior doors. Wood doors are easy to customize in terms of size and decorative features, but can warp over time when exposed to the elements.
Composite
Composite doors are made of a mix of materials like particle board and other wood products, plastic polymers and resin with a veneer surface. Composite material is more weather resistant than natural wood, and usually costs less.
Fiberglass
Fiberglass doors are available in a range of colors and can be stained or painted to match your décor. Fiberglass doors look like wood but are more durable and have an insulated core for better efficiency.
Vinyl
Vinyl doors are durable, affordable and low-maintenance. Vinyl doors are light weight and have great insulation, but they're not as strong as other materials, and repairing or replacing hardware can be tricky.
Steel
Steel doors are very strong and a great option for increased security. An insulated foam core with steel panels on other side is energy efficient, but if a steel door gets dented repairs can be difficult.
Aluminum
Aluminum doors are popular, wallet-friendly and durable. Aluminum doors are lightweight and strong, low-maintenance, and resist insects and the elements.
Steel
Glass doors maximize natural light, and there are many decorative glass options to let you enjoy the light while maintaining privacy. In Wisconsin, you'll definitely want to choose a glass entry door with high energy performance ratings to minimize heat loss in winter.
Door features
There are dozens of options and ways to customize your replacement door, including colors, finishes, sidelights, trim and much more. We're here to help you navigate available features and cost for the door style and brand you have in mind.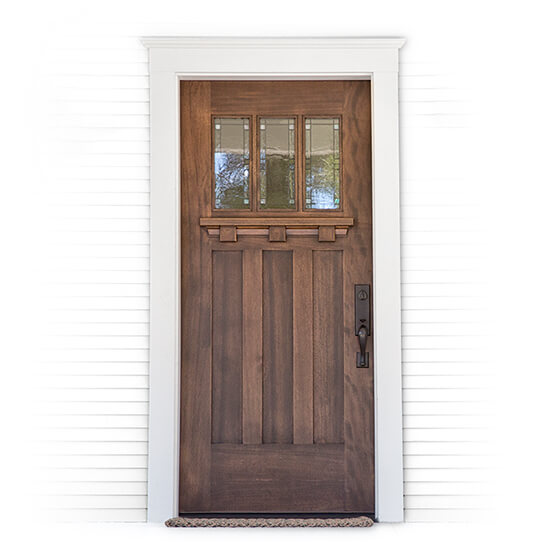 Color & Finish
There are plenty of paint, stain and texture options available to give your door a natural, modern or one-of-a-kind style.
Glass Accents
Replacement doors are available with clear, textured or decorative glass (with or without grilles/lites).
Decorative Elements
There are many different accessories to add style and flair to your door, including hinge straps, dentil shelves, speakeasies, sills, crossbucks and more.
Frame & Trim
Choose from a range of styles and finishes for your interior or exterior door trim to coordinate with your home architecture and décor.
Door energy performance ratings
Energy performance criteria for entry doors start with how much glass the door has – this is called the glazing level. Opaque doors (no glass) are the most energy efficient.
For doors with glass:
U-factor measures heat conduction. A lower number means less heat lost in winter.
Solar gain (SHGC) measures how much heat enters via sunlight. The higher the number, the more solar heat is transmitted.
Even doors that have a lot of glass (like patio doors) provide better insulation than a window because they have a lower glass-to-frame ratio.
What makes doors more energy efficient?
Double or triple-pane glass used for any glass features
Modern core materials like polyurethane foam to improve insulation
Tight seals and quality weather stripping to reduce air leakage
Door hardware
We have a large selection of in-stock door hardware, including reclaimed and vintage options. Choose from door knobs, handles, hinges, repair kits and more. We're happy to guide you towards the hardware style and finish options best suited to your door.
Door Hardware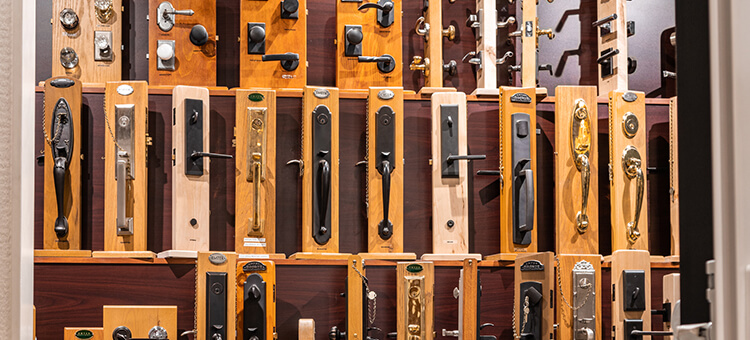 Controlling the cost of door replacement & installation
The cost of replacing an interior or exterior door can vary widely, depending on the door material, whether the opening needs to be reframed, and most importantly: where you source your replacement door and installation.
We help homeowners control the cost of replacement doors three ways:
We have close, longstanding relationships with the best door manufacturers in the industry, so we're able to offer near-wholesale pricing on the highest quality replacement doors.
We're door specialists, and our goal is to help each customer get the best possible value in a replacement door, based on their project and budget.
We price doors and installation separately, so you can see exactly what you're paying for. Some door suppliers bundle the cost of doors and installation, which can make an offer ("50% off door installation!") seem like a better deal than it really is.
We sell replacement doors for the lowest price possible every day of the year and help customers facilitate installation through our cherry-picked subcontractors. Your pricing will always be upfront with us. Bring in a competitor's quote for replacement doors and/or installation and we'll show you how much you can save with us.
Ready to get started? Visit our Milwaukee door store or get in touch with us today:
Visit our store
Contact Us